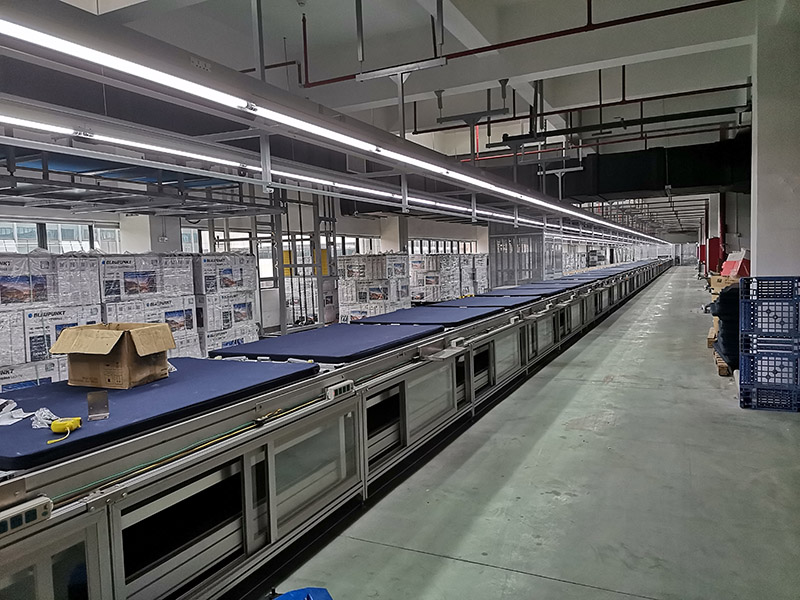 his is our project for KTC TV assembly line in year 2020. It includes TV assembling line, TV aging line, TV testing line, dark room, noice-reduction room, tv packing line with automatic sealing machine, automatic strapping machine. Their tv size is 75 inches. We design the function for tv standing up on the pallets automatically, don't need operators to handle, save labour cost for them. This project set in three floors, tv panel assembly line one floor, SKD tv assembly line and tv aging line one floor, tv packing line with robots one floor.
TV panel assembly line is designed to roller conveyors with two layers, top layer is gravity stainless steel roller conveyor for tv panel assembling, bottom layer is power stainless steel roller conveyors. This TV panel assembly line is set in a clean room.
The tv assembly line we design to pallets type assembly line and the pallets include a eva pad, which is designed with two layers, top layer for tv assembling, bottom layer for tv pallets returning.
The tv aging line, tvs are standing on the pallets for aging on line, which is set in a aging room with 4 lines with two layers.
 The tv testing line, tvs are also standing on the pallets, and we equip with mirror to help operators to check the screen. We also set noice-reduction room and dark room for tv testing on line.
The tv packing line is supported with roller conveyors, automatic sealing machine and automatic strapping machine. And there is a robot to pick up the tv and put into the carton box for packaging.
Because the tv panel assembly line, skd tv assembly line, tv testing line, tv aging line and tv packing line are set in three floors, so there are elevators to be set for tv transporting.
If you need to plan your factory, welcome to contact us for discussion, Hongdali have a experienced engineer team to support.
---
Post time: Dec-23-2021